Alexander Scott's Hospital - EVENTIDE HOME
Registered Charity: SC016300
LOCATION
Alexander Scott's Hospital Eventide Home is a private residential home for the elderly, situated within its own sheltered grounds of one and a half acres on Gladstone Road, Huntly. This is a prime residential area of Huntly yet within reasonable walking distance of shops and other facilities.
ACCOMMODATION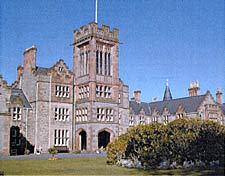 Residents are provided with a high standard of care. Privacy and independence are maintained in an informal atmosphere.
The three attractive sitting-rooms are spacious and comfortable and have pleasant views over the gardens and policies to the hills beyond. The River Bogie flows nearby.
Residents are accommodated in single bed-sitting rooms arranged on two floors. All bed-sitting rooms, bathrooms and public rooms are equipped with an emergency call-system and most have access for wheelchairs and walking frames. There is television in the public rooms, while most residents have (or can have if they so wish) their own television set in their own room. Residents are encouraged to furnish their rooms with personal items of furniture, plants, etc., by arrangement with the Matron.
FACILITIES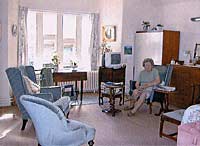 All rooms and public areas are centrally heated and all rooms have supplementary heating, e.g. electric wall heaters. En-suite facilities are present in all residents' rooms. There is a passenger-lift to the first floor.
Care Staff provide twenty-four hour care with local doctors on call. Should a resident fall ill, general care is provided unless the doctor recommends that more intensive hospital care is required.
SAFETY
The premises are registered with the Local Authority and meet the Statutory Fire Regulations with approved smoke detectors, alarm systems, etc. Fire drills under the supervision of the local Fire Brigade are held frequently.
AMENITIES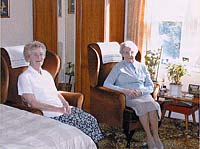 Each public room has a colour television and one also has a video recorder.
A public telephone is available for the use of residents while many have a private telephone in their own room. The Mobile Library calls regularly. Religious services are conducted within the Home. Outings to church, theatre, shops, meals, concerts, etc., are arranged on a regular basis. Afternoon and evening musical and other entertainment is provided throughout the year and especially at Christmas and New Year. Many Huntly people proudly say: "There is always something on at Scott's.". There are many "Friends of Scott's" including: the Rotary Club, who donate extra comforts and who provide a wide variety of services, the Parish Guilds, Girl Guides, Venture Scouts, Young Wives Group, Pupils of The Gordon Schools and many others too numerous to mention.
The large garden produces fresh fruit and flowers when in season.
SERVICES ON THE PREMISES
Chiropody (every second week) and hairdressing (every week) are available by appointment. Dentist by appointment. Optician by appointment. All laundry, including personal laundry items, are dealt with by a laundry maid in the Home' s own laundry. Newspapers are provided.
VISITORS ARE ALWAYS WELCOME.
RULES OF ADMISSION AND GENERAL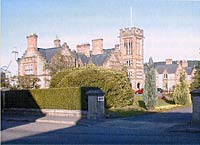 This Eventide Home, called a "Hospital" in the old sense of the word, was incorporated by Act of Parliament in 1868. The benefactor was Dr. Alexander Scott of Craibstone and Huntly. He laid down the Rules of Admission (amended from time to time to meet changing circumstances) which make clear his love for Huntly and District. For example, admission is restricted to certain Huntly born people, certain Huntly Residents and to certain of those born OR resident in Parishes, namely Huntly Parish, Rhynie. Clatt, Kennethmont, Forgue, Drumblade, Glass, Cairnie and Gartly.
PLEASE NOTE: the foregoing are examples only; the detailed rules are in the Application Form and are strictly adhered to.
BOARD OF MANAGEMENT
The Board of Management consists of local Trustees (or Trustees with local connections) who give of their time, interest and expertise gratuitously and generously. Scott's is registered as a Charity (Registered Charity: SC016300) and is also registered under the Social Work (Scotland) Act 1968 as amended the Care Commission of Aberdeenshire Council Social Work Department.
HOW TO APPLY
Forms of Application may be obtained from, and if and when completed, must be returned to, the undernoted:
MURDOCH, McMATH & MITCHELL,
SOLICITORS,
27/29 DUKE STREET
HUNTLY, ABERDEENSHIRE
AB54 8DP
CLERKS & TREASURERS TO THE INCORPORATION
NOTE:
The foregoing information is for guidance only and may be subject to amendment at any time.