Local Fisheries
Huntly Fishings Season 2018
All Fishing Permits for Huntly (Town) Waters may be purchased only from the Offices of the Clerk between 9am and 4.30pm Monday to Friday, excluding all local and national holidays.
Permits to visitors to fish in Huntly Waters are available at the following charges:
VISITORS
Season

£175.00


Monthly £ 65.00
Weekly £ 50.00
Daily £ 20.00

OCTOBER
Season £175.00
Weekly £ 55.00
Daily £ 25.00



Visitors holding a Season Permit
can now also fish on a
Saturday.

RESIDENTS
(i.e. permanent inhabitants only of Huntly and certain former Parishes) PLEASE SEE NOTES
Season £ 70.00
O.A.P £ 30.00
Schoolchildren (Under 16) £ 1.00

LEVY
Adult £ 15.00

To be paid by all new fishers and all who failed to lodge "return of catches" from last season.
​Visiting School Rates
Schoolchildren (under 16) visiting will pay £7.00 for a permit.
NOTE
(i) Only 10 Daily Permits are issued on a "first come, first served" basis.
(ii) Applicants for a Permit may be required to produce satisfactory identification to the Clerk. Only permanent residents/inhabitants of Huntly and certain former Parishes qualify for a Residents' permit. Therefore, natives of Huntly and these Parishes who live elsewhere do not qualify.
(iii)
Visitors' Season permits are valid from Monday to a Saturday inclusive, that is only Visitors who hold a Season Permit may fish on a Saturday otherwise no Saturday fishing by Vistors.
(iv) It is recommended that all Sea Trout caught in Huntly (Town) Waters be released.
(v)
April, May and June - Rivers Bogie and Isla - (Season Permit Holders only)
Sunday Trout Fishing - details from the Clerk.
(vi) Only fly fishing in October.
(vii) Any child (visitor or resident) aged 12 or under must be accompanied by an adult who need not be fishing.
(viii)
Spinning only allowed if water level is above 1 foot (12 inches) - below that fly only. There will be markers up and down the River Deveron (does not affect the Rivers Bogie and Isla). Children and disabled persons are not included in this regulation.
(ix) During the month of October all Huntly Fishings Rivers will be 100% Catch and Release, that is all fish must be returned to the Rivers Deveron, Bogie and Isla during that period.
(x) There are Trophies to be won (Residents only).
(xi) Committee Members patrol the water. The Rules and Regulations will be strictly enforced.
ATTENTION
The Conservation of Salmon (Annual Close Times and Catch and Release) (Scotland) Regulations 2014
Early-running spring salmon are being further protected by the Government through mandatory (i.e., compulsory) catch and release measures. These came into force on 5th January 2015.
Fishing by rod and line will be permitted between 11th February and 31st March as normal but it will be a criminal offence to retain a salmon during this period
. Fixed engine (nets) operation is prohibited within these dates. The River Deveron District Salmon Fishery Board will continue to operate the current Conservation Code which recommends
returning all salmon up until 31st May
and promote the Chivas Reward Scheme from 1st April until 31st May.
A print of said Code is issued with Permits. Anglers are required to observe the guidelines specified by the Fishery Board.
PERMITS - SALES POLICY
Huntly Fishings Committees reserves the right to refuse to sell fishing permits to any individual or individuals including:-
(a) persons who have breached or are suspected of having breached HFC rules;
(b) persons with a history of poaching or are under suspicion of poaching; or
(c) persons who are known associates of (a) or (b) above.
Huntly Fishings Committee's judgement in this matter is final.

Gordon J. Christie, LL.B., Dip.L.P., N.P.
27/29 Duke Street, Huntly
E.&O.E Clerk to Huntly Fishings
Salmon, Sea Trout and Trout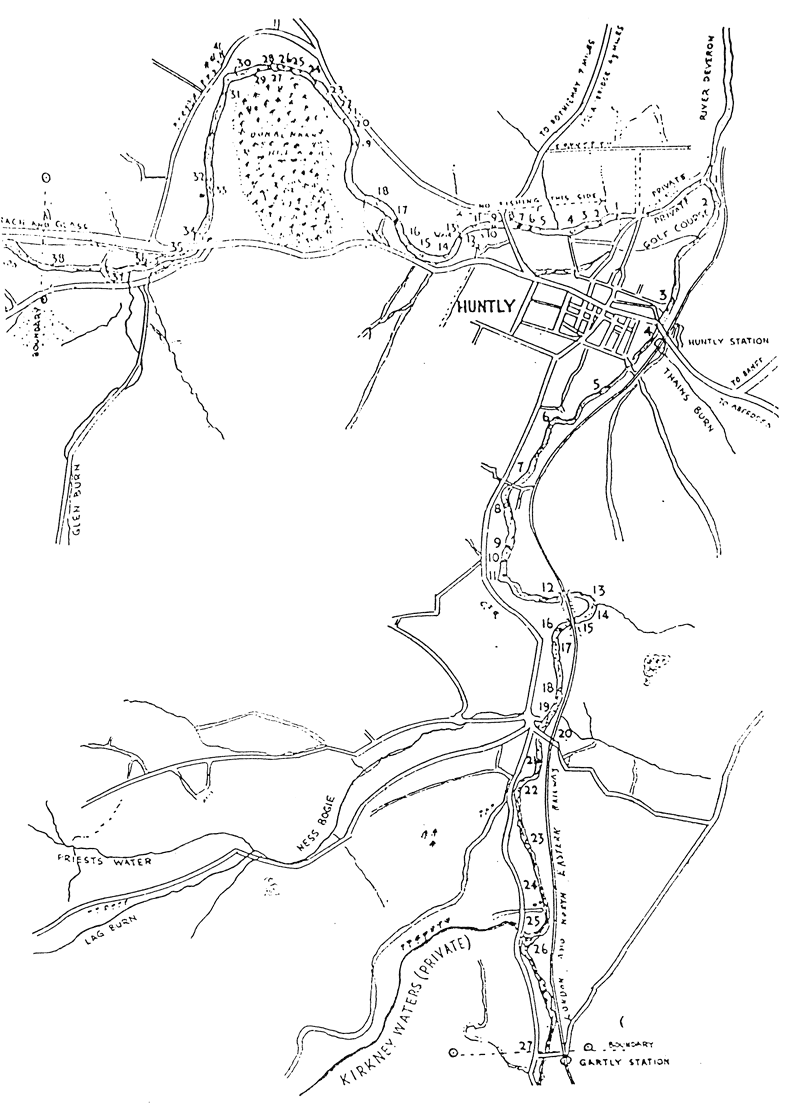 DEVERON
Number & Names of Pools

1. Horse Pot
2. Niven's Pot
3. Factor's Pot
4. Long Pot
5. Ring Stone
6. Willie Yeates
7. Lang Stream
8. Bridge Pot
9. Mermaid
10. Bullers
11. Sandy Pot
12. Boat Hole
13. Weir
14. Ittingstone Pot
15. Donbennan Corner
16. Sow's Pot
17. Peppermint Pot
18. Barr Haugh
19. Steps
20. Saugh Bush
21. Tail 'o' Bog
22. Flat Stone
23. March Dyke
24. Bridge Pool
25. Rough Ford
26. White Rush
27. Round Stone
28. Pike Stone
29. Little Hollie
30. Dallans
31. Bog Haugh
32. Bumbler
33. Peter Kirk
34. Red Bridge Pool
35. Tree Root Pot
36. Sleepy Neuk
37. Artloch Pot
38. Terryorn Pool
BOGIE
Number & Names of Pools

1. Meetings of water boundary
2. Rapping Gate
3. Factor's Pot
4. Missies
5. Brander's Pot
6. Junkin
7. Green Haugh Bridge Pot
8. Leslie's Pot
9. Auld Brig Pot
10. Bucharn Stream
11. Black Corner
12. No.1 Bridge Hole
13. Cokie's Stream
14. The Rock
15. No.2 Bridge Hole
16. Tree Hole
17. Bridge Stream
18. Dunkie's Stream
19. Dyke Hole
20. School Brig Hole
21. Jockie Little's Hole
22. Millie's Pot
23. Millie's Stream
24. Culdrain Hole
25. Old Bridge Hole
26. Mouth of Kirkney
27. Boundary of Burgh Waters
Fishing Permits
Below is a sample fishing permit, with associated conditions of fishing. Please click to enlarge.